Gallery
Description
Reviews
Shipping Policy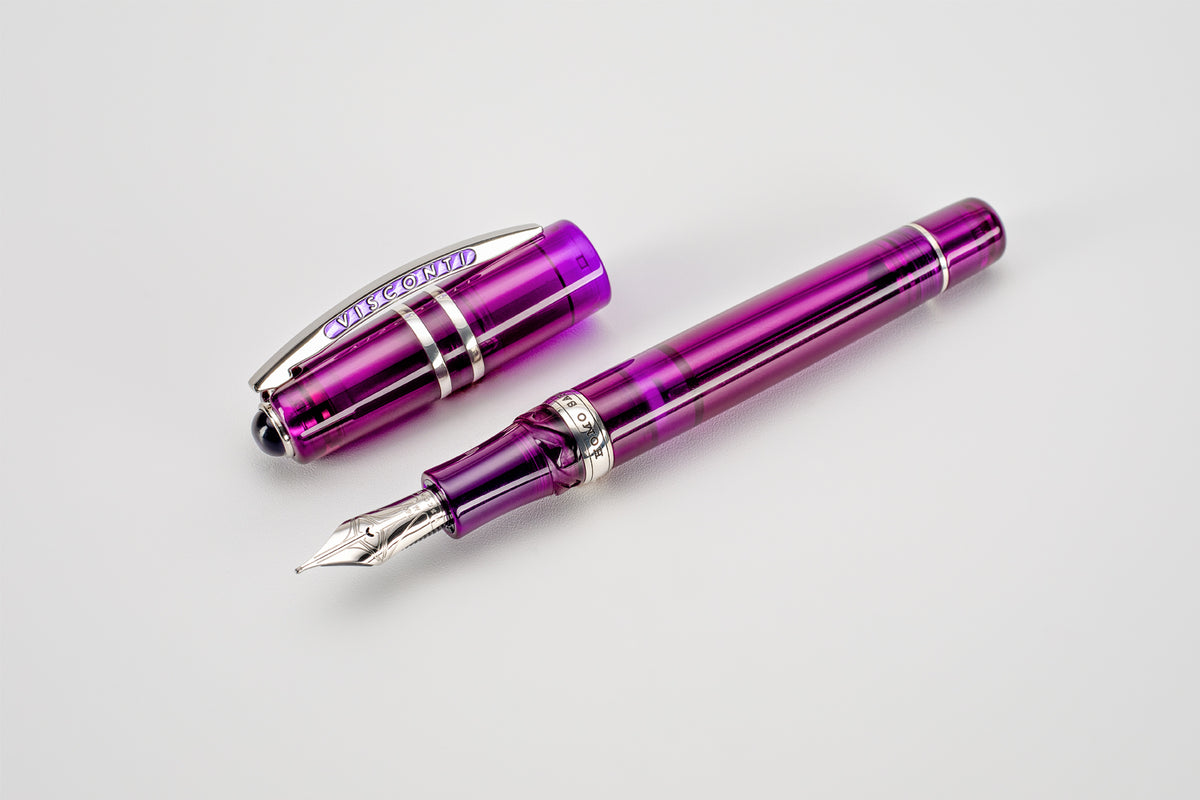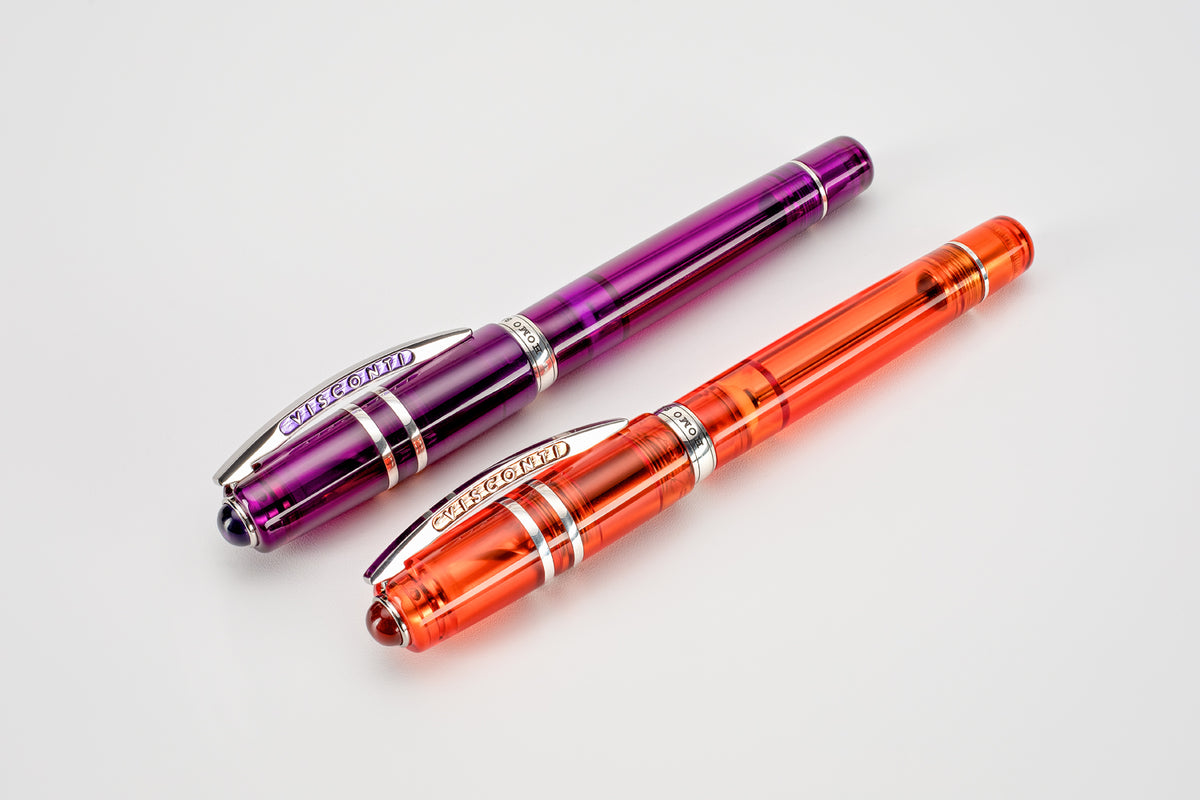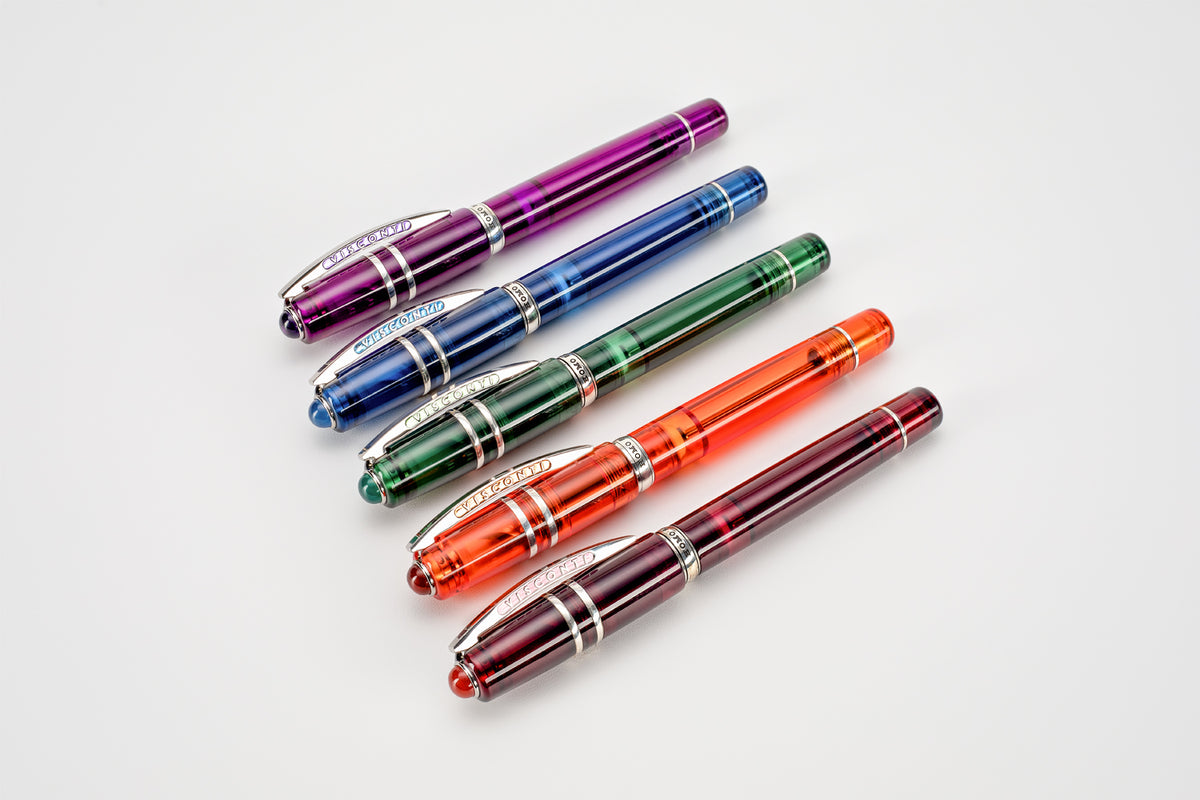 For the new year 2022, Visconti added two new colors to the HS Demo Stones Collection: Mandarine Garnet and Purple Amethyst.
The Homo Sapiens Demo Stones fountain pens have their true power born out of their natural encounter with light, which gives life to their transparency, density, splendor and fluidity. 
Each Demo Stones pen is designed, made, and polished in Visconti's Florentine workshop. The barrel and cap are made of fine acrylic resin. Transparency is not purely an aesthetic choice, but also a way to reveal the beating heart of the demonstrator pen: the Power Filler Double Reservoir filling system, patented by Visconti in 1998.
The collection is also enriched by colored stones placed on the pen cap: gem colors of the pen's body.

Each Demo Stones Homo Sapiens is equipped with the in-house made 14k Gold nib from Visconti. Pick the nib size that you like from the following: Extra Fine, Fine, Medium, Broad, and a 1.3mm Stub.

*Every pen/nib is checked prior to being sent out, every nib will be inspected and adjusted if it's needed, if you have certain aspects regarding the desired writing experience - email us this info at penventure@yahoo.com.



Specifications:
- brand: Visconti
- type: Fountain Pen
- color: Amethyst - Purple
- body material: Acrylic Resin
- cap type: Hook Safe Lock
- filling mechanism: Double Reservoir Power Filler 
- nib material: 14k Gold
- nib size: Extra Fine, Fine, Medium, Broad, Stub 1.3 mm.
- nib color: Silver
- postable: Yes
- trim: Palladium Plated
- length overall (closed): 148 mm.
- length overall (posted): 175,4 mm.
- body length: 131 mm.
- cap length: 60,3 mm.
- body diameter: 14,3 mm.
- cap diameter (without clip): 16,3 mm.
- weight (overall): 39 grams.
- body weight: 23 grams.
- cap weight: 16 grams. 
How much is my shipping?
We ship all of our packages outside Romania through DHL, all with flat-rate shipping. Simply add the items you want into your cart to view the options, which vary based on location. All of our shipping methods include tracking. The shipping price is calculated when you place the order, depending on the adress and the weight of your products.
For packages in Romania we use the local Fan Curier services, for a standard price of 7 euro/package.
When will my order ship?
 We ship five days a week, Monday through Friday. Sometimes our mail pickup comes in early afternoon, so tracking for orders shipped later that day may not update until the following business day.
You will receive a shipment confirmation with tracking information via email when your order has shipped. You can also sign in and click the My Account link at the top of our site to track the status of your order.
When will my order arrive?
For each order, there is an estimated time of delivery calculated by DHL. It apperas after you introduce your shipping address.
DHL international: Usually takes 2-5 business days to arrive.
Fan Curier (Romania): Usually takes 1-2 business days to arrive.
Oops, I gave you an incorrect shipping address!
Please email us at contact@pen-venture.com immediately if you realize that you gave us the wrong shipping address — if it hasn't shipped yet, we should be able to correct it before it goes out the door.
If your order ships and ends up being returned to us, then you are responsible for paying the cost of shipping again to resend it to you. If you decide to cancel your order instead, we'll refund you for the products less the original shipping charges. We'll reach out to you to coordinate your options before re-shipping.
If your order ships to an incorrect address and is not retrievable, unfortunately we are not responsible and cannot offer reimbursement.