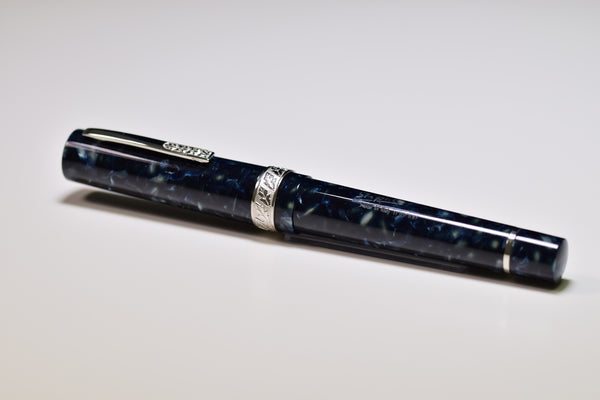 Stipula Florentia - Notte di San Lorenzo LTD
Stipula is bringing good news as they are starting an year long celebration of their upcoming thirtieth anniversary in the fall of 2021. Stipula has set out to celebrate from this year, by gradually introducing the celebratory models planned.

First in the row is Stipula Florentia, an iconic pen from the brand that came out thirty years ago, when the collections had been developed after some simple and basic assumptions on pen designs which could at the same time guarantee long term vitality and class. Florentia has taken its name from the towns original Latin name, dedicated to the roman goddess Flora, the deity behind flowers and springtime. In the pure Florence style, the pen was designed very simple with the only adornments in their massive Sterling Silver or 9k Gold trims, recalling the mythic Stipula leaves, the symbol of the brand and its hint at the secrets of capillary action behind all fountain pen writing tools.


With a body evoking a prolific meteor shower on a dark summer sky, the new Stipula Florentia - Notte di San Lorenzo impresses from the very first glance. The shape of the Florentia is iconic, it features flat ends and simplicity in every aspect. All the trims on the pen are made from Sterling Silver 925 that enhance the dark blue color of the body. With Notte di San Lorenzo, Stipula is also coming out with a vintage style inbuilt piston powered by the Ebonite feeder and the handmade 14k Stiflex nib. Every 14k Gold nib is made in house by Stipula and friction fitted to each fountain pen. Like all Stipula piston filling mechanisms, ink is loaded by unscrewing the end knob.
Limited to only 300 pieces that mark the 30 years of pen making history of Stipula, this pen is available exclusively in our tore for the next period of time – as a token of appreciation for our collaboration with the Florence based manufacturer.

This classic pen is revisited at a time when classic is what we all feel good about, so make sure to grab yours.