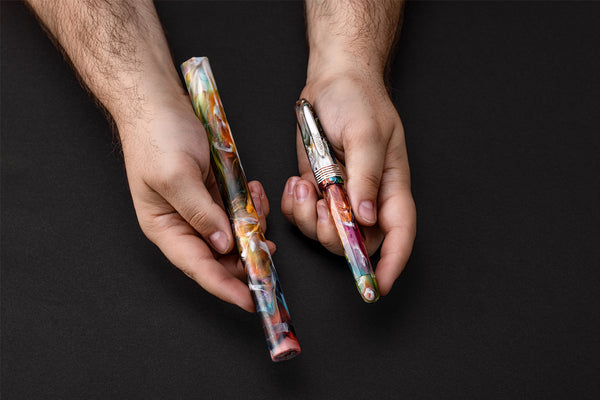 Stipula Etruria - Primary Manipulation Psychedelic Rainbow
"Colors, like features, follow the changes of the emotions"
Pablo Picasso
As many of you already know, Stipula is one of the companies Pen Venture had a great relationship with since its beginning. A company that is a reflection of the italian vintage style in fountain pens just had to be in Pen Venture's list of brands offered on our website.
What started as a business collaboration, soon turned into a friendship with the man in charge of Stipula - Luca Viti, a man with a long history in the italian fountain pen making industry, passionate about his work and also opened to experimenting with new ideas.
As we always look forward to new challenges, we also like to poke at new trends and mix what may be sometimes described as opposites, whether we talk about new techniques, materials or fountain pen makers.
We were fortunate to find Jonathon's Brooks Primary Manipulation at the perfect moment. Following the established long relationship with Stipula, we came up with an idea: why not mix the shape of an italian classic fountain pen, with a modern, daring material like the Primary Manipulation, in a bold statement of fountain pen craftsmanship?
This is in short, how the Stipula Etruria – Primary Manipulation Psychedelic Rainbow was born.
We managed to build a bridge between a classic and traditional brand that has a tamed and elegant style, with a material made out of a mix of colors capable of absorbing your soul, only to make you its slave.
Anything but a classic color, confined in a conservative shape of a classic pen in an attempt to tame down its wilderness, the Etruria Primary Manipulation is far from civilized, this fountain pen is a wild statement trying to evoke emotion in it's purest form.

Built in an elegant cigar form, the faceted Etruria features 8 faces, different from the usual size, we opted for an oversized fountain pen to match the current trend in the writing instruments industry.
With a solid silver trim and clip, and a 14k Stiflex nib made in-house by Stipula, the fountain pen offers something both to those who are looking for an everyday fountain pen and also to those who want to add some character to their writing style by using the flexing capabilities of such a nib.
A limited edition to only 50 pieces exclusive to Pen Venture, the Stipula Etruria Primary Manipulation Psychedelic Rainbow was named after the 70's, the years where this kind of color mix was fashionable. Each fountain pen has an unique pattern, so this collection should not be seen as a 50 pieces collection, but rather as 50 unique fountain pens that bear the same name.
The Primary Manipulation material in itself represents a one of a kind creation, where different densities colors do not mix, but rather form a type of bottled rainbow with some pens having translucent areas as well.