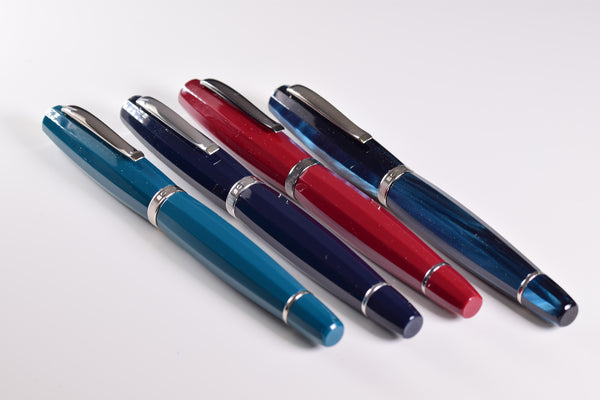 Scribo Feel
Scribo is a young Italian brand with a long history behind. 
Their story begins in the same day the glorious OMAS, a historic Bolognese company, found its end. At the dawn of 2016, Scribo was born with high quality products, all handmade at their Bologna factory. 
Scribo is an acronym for Scrittura Bolognese and their story is one interlaced with the passion for Italian craftsmanship, a passion for writing instruments and with the valuable collaboration of some former Omas employees.
The Scribo Feel collection is an invitation to live with a unique writing experience of the highest quality, to seek your own writing style. Feel is a tribute to the aesthetics of handwriting and the pleasure of writing. 
The nib is the main player of the Feel collection, available in 18kt gold with Extra Fine, Fine, Medium, Broad, BBB and 1.4 Stub writing. 
The 14kt Gold Flexible nib, available in Extra Fine, Fine, Medium and Broad is the Scribo cornerstone. 
The perfect match for Scribo's historic nib is the ebonite feeder, which enhances the always ready, generous, soft and precise writing, thanks to the use of the classic piston filling system.
You can find the Feel collection on our website: Oceano, Mediterraneo, Blue-Black and Amarena.