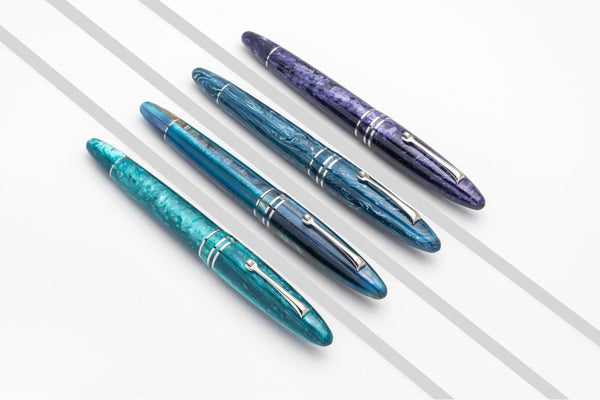 Leonardo Officina Italiana - Furore Grande
As many of you know, Furore is the second launch from Leonardo, after the astounding success they had with Momento Zero. 
The Furore collection was inspired by the Amalfi coast, a magical place, full of vibrant colors and excitement. Furore brings to life the "italian cigar shape" in a variety of colors, Vulcano, Purple, Bronze, Orange, White Salt, Red Passion, Sunny Yellow, Blue Galaxy and Blue Emerald.
By public demand, the 2020 Furore Grande collection follows the Furore. The new collection comes with a bunch of new features like the ebonite feed, 2020 piston and gold nibs.
The color range of the Furore Grande Piston 2020 is focused on the most popular colors from Leonardo: Purple, Hawaii, Blue Positano and Green Emerald.
The Furore Grande Piston collection from Leonardo Officina Italiana is now available for preorders from our website with deliveries starting from the 15th of October.