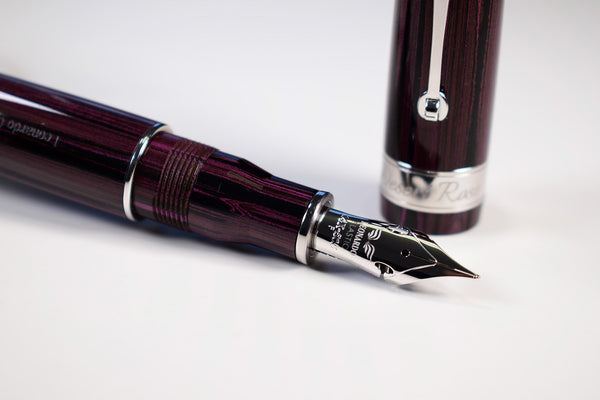 Leonardo - Momento Zero Grande Desert Rose
Backtracking our progress from the Desert Rose exclusive ink that we developed with Diamine, now we are launching our Desert Rose exclusive pen, a collaboration project that took almost 2 years since the birth of the initial idea and the time when we got our final product.
We opted for a custom material that was design once we decided what will serve as inspiration for our pen, we chosen the flower of the Adenium Obesum plant to be our color pallet, known to grow in the south of the Sahara desert and often called Desert Rose. Deep and velvety purple was mixed with black to form our ebonite color, as for the pattern for these colors we chose to go with the rosewood ebonite pattern, known by a lot of people in the fountain pen hobby as being a vintage standard.


Our exclusive Desert Rose shares his DNA with the popular Momento Zero Grande collection of Leonardo Officina Italiana, we opted for a few minor design changes that brings our pen apart from the rest of the Momento Zero Grande.

The first changes can be observed at both ends of the pen, different from the standard pen is the shape of the ends, they where polished and now they are not pointy anymore but more dome like. This design feature also makes our pen with a few millimetres shorter than the standard pen.

Respecting the proportions of the standard pen and also being shorter than the standard model, we had to make the pen just a hint more chunkier in the middle. The section of our exclusive pen is the same with the standard pen, although the writing experience may feel different because we wanted our pen to be more heavier than the standard resin model, for this we didn't added weight in wired places or with unorthodox methods but we opted to bore the barrel of our exclusive pen much less than the standard pen. This way the weight is evenly distributed over the entire pen making it balanced and comfortable to use.


Two visual features that strike out when Desert Rose is put side by side with a standard resin Grande are the large cap ring that identifies our pen, on this cap ring we had engraved the name of the pen Desert Rose, the second visual feature is the clip that is more narrow and streamline making the overall look more elegant and simple.


The entire collection numbers only 30 pens made, of witch in preorder only, our clients had another trim color option - Rose Gold. Once the preorder list is closed and our first batch of pen arrive, we will remove the rose gold trim option and offer the pen in the standard trim option - Rhodium.

Desert Rose fountain pens come equipped with a non removable big converter (1.2ml ink) just like the standard Grande model, also the nib that is available for our exclusive pen is 14k gold nib friction fitted in the pen with a ebonite feed. We offer our pen in two pricing ranges : 530 EUR for the nib ranges starting with Extra Fine - Fine - Medium - Broad and finishing with the 1.3mm Stub, and 560 EUR for a specialty 14k gold nib - Elastic Fine.(prices are with no tax)
For any informations don't hesitate to email us at : penventure@yahoo.com or send us a message on instagram @insta.emy or on our facebook page @penventure.official