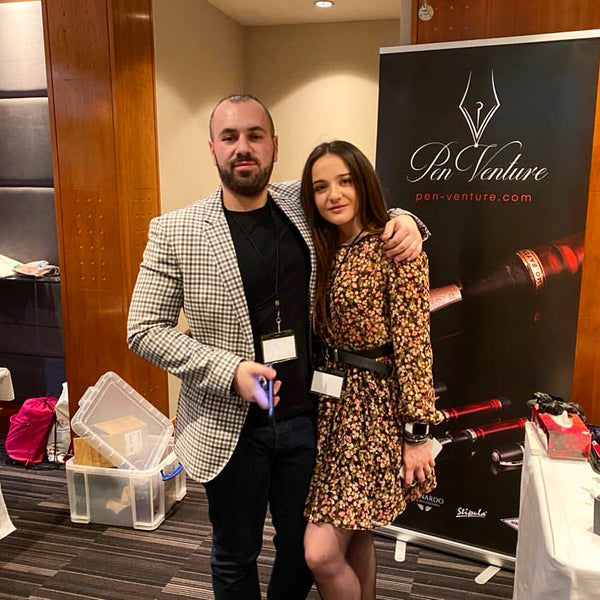 London Pen Show Recap - 8th March 2020
London - Spring Pen Show (8th of March)
The dust has settled and we've just got home, now being that I have some spare time at the end of the day, I want to share with you some thoughts regarding this event and how was for us - the first time that we participated and exhibited our collection of fountain pens.
Being based in Romania, we had to fly a few days ahead the show and we had some spare time to visit some of the beautiful landmarks of London, which are so much more colourful in person than ive imagined.
Saturday it was the first contact with the people that where attending the show and as you will see by the end of this story it was many "first time" things that I done, not only I was for my first time in London but now I finally meet with Penultimate Dave, after many many years of sharing our thoughts on this hobby and sharing a huge passion for Italian writing instruments - mostly Visconti, we had time to talk and show of our pens at the bar of the Holiday Inn hotel.
I had the pleasure of being introduced to new people in this hobby but also meet with people that constantly order their fountain pens from Pen Venture, like for example Duncan Jeggo (you can find him on instagram at @zaphod30), we stayed up late and I brought my entire collection of writing instruments with me for everyone to see and even test some of the pens that where inked.
The show day was great, I was excited and pumped to display my collection and I barely slept the night before, the alarm clock went up at 6:30 in the morning and along with the help of my wife we packed the trolley and headed for the Holiday Inn conference room to find our where our table was located. 
After setting up the table I had time to chat with many of the people in the hobby that where exhibiting, I can mention here John Foye from St John's Pens (instagram : @stjohnspens) and his lovely lovely wife and daughter, thank you for such a warm welcome and we look forward meeting up with them in the near future.
There is no pen show that is complete if the one and only #onemenpenshow Sarj Minhas isn't attending (instagram : @sarjmihas), finally after contacting his services for the past 3 years we've meet in person. If you look for a rare pen Sarj haves it or if he doesn't have it, he knows someone who has it. I finally now understand why the Namiki Emperor puts to sleep many pens that are called oversize - the thing is so big that you cant understand its size unless you see it in your front.
Not only I was able to see its collection of rare stuff but also braved with some pieces that Sarj doesn't have them, but like always at the end of the day I had to walk away with one very pretty and rare Stipula Etruria made in a blue celluloid and only in 21 pieces for Fountain Pen Network.
One of the people that I have the most respect is a person who you don't expect to get more than a few sarcastic jokes, well, I got myself a free history book on pens, a few free things to adjust my and your nibs with, some knowledge and for me that is important. John Sorowka its the Doctor House of writing instruments, don't be fooled by the arrogance when its based on many many years of experience, this man is a walking history book and if it has a nib - it has something to do with it. My hat goes off to people like this, probably will meet up again later this year at a coming show - till then I must figure out a way to reach out to him being that I forgot to ask for his details and I only have his business card but no phone number is mentioned - probably will end up sending a pigeon because John is the kind of person who I think thrive in analog)
I want to personally thank each and everyone who choose to shop with us, you made this experience so rewarding, im looking forward to meet with you all probably in October at the next London Pen Show or at the Duch Pen Show in June, for those of you who come there. Best regards from Pen Venture, for anything be sure to contact us are reach out : questions - opinions - business opportunities , just send us a email at : penventure@yahoo.com or at my personal email - hij_emy@yahoo.com .
Best regards,
Emy
Pen Venture - owner